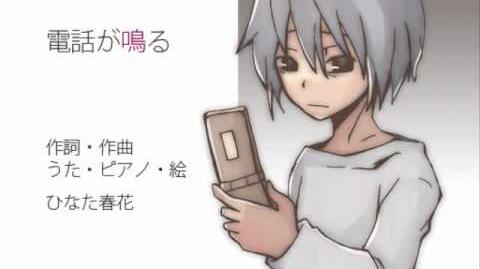 Song Title
"Denwa ga Naru
("電話が鳴る")
Producer
Music/Vocal/Video by Hinata Haruhana
Character Involved
Narumiya Mafuyu
Song Link
(Youtube)
Other Versions
Edit
The original version of the song
Background
Edit
"Denwa ni Dete yo" is a song composed, illustrated, and sung by Hinata Haruhana; it's her second work in 2009, the previous being Kimi Hitori. It was first published on February 20th 2009 along side Denwa ni Dete yo. The two songs were uploaded in one video (hence the reason why the two songs are written together in one page under the "songs" section in Logicalism). In the retake version uploaded on August 16th 2010 however, the two songs were separated. Currently, both the retake and original version are unlisted.
Following the events of Denwa ni Dete yo; a song where Natsuki Kori, wanting Narumiya Mafuyu to answer her phone calls. In Denwa ga Naru, Mafuyu explains his side of the story on to why he can't answer her calls. The origins of Kori and Mafuyu's nicknames being Denko and Den'o respectively can be traced back to these two songs.
まだ夜明け前なのに 僕は目を覚ました
電話のベルが僕の頬を叩く

毎晩鳴っている
僕にしか聞こえない電話のベルに
決して出てはいけない

どうして目が覚めたのだろう?
ずっと夢を見ていたかった
夢の中にだけ空が広がる
その空の下で笑う君がいる

君の電話に出ることはできない
出てしまったら君が消えてしまう

空が明るみ始め
不意に途切れ消えた電話のベルに
僕は不安になる

日が昇れば再び無意味な一日が
僕の身体を蝕んでいくだろう

どうして生きてきたのだろう?
いっそ出会うことがなければ
傷つけることも傷つくことも
ないままに僕はしあわせだったのに

君の電話に出ることは出来ない
出るくらいなら僕は消えてしまおう

怖いんだ、二度も君を失くすことが
それなら僕はずっと眠ったままでいい…

君の電話に出ることはできない
出てしまったら君が消えてしまう

君の電話に出ることはできない
待っていておくれ、…僕もそこに行くよ

mada yoake mae nano ni boku wa me wo samashita
denwa no beru ga boku no hoho wo tataku

maiban natte iru
boku ni shika kikoenai denwa no beru ni
kesshite dete wa ikenai

doushite me ga sameta no darou?
zutto yume wo mite itakatta
yume no naka ni dake sora ga hirogaru
sono sora no shita de warau kimi ga iru

kimi no denwa ni deru koto wa dekinai
dete shimattara kimi ga kiete shimau

sora ga akarumi hajime
fui ni togire kieta denwa no beru ni
boku wa fuan ni naru

hi ga noboreba futatabi muimina ichinichi ga
boku no karada wo mushibande yuku darou

doushite ikite kita no darou?
isso deau koto ga nakereba
kizutsukeru koto mo kizutsuku koto mo
nai mama ni boku wa shiawase datta no ni

kimi no denwa ni deru koto wa dekinai
deru kurai nara boku wa kiete shimaou

kowainda, nido mo kimi wo nakusu koto ga
sorenara boku wa zutto nemutta mama de ii...

kimi no denwa ni deru koto wa dekinai
dete shimattara kimi ga kiete shimau

kimi no denwa ni deru koto wa dekinai
matte ite okure, ...boku mo soko ni iku yo
Ad blocker interference detected!
Wikia is a free-to-use site that makes money from advertising. We have a modified experience for viewers using ad blockers

Wikia is not accessible if you've made further modifications. Remove the custom ad blocker rule(s) and the page will load as expected.