Other Versions
Edit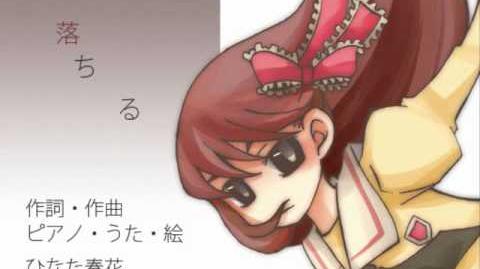 The original version of the song.
Background
Edit
"Ochiru" is a song composed, sung, and illustrated by Hinata Haruhana; it's her seventh work in 2010, the previous being "Boku to Michizure no Uta". The song was first published on June 27th 2010 (currently the original video is unlisted). It's featured in the album "Mado to Hekimen no Accord" on January 10th 2012, and the album version was later uploaded on August 20th 2014.
The song tells Mai and how she fell in love with someone (hinted by the ringing of a phone; it's presumably related to "Denwa ga Naru"; making the man in the song Narumiya Mafuyu).
時計屋の扉を叩く (トトントトントトン)
明かりは点いていない
いつものこと

わたしの心臓転がす (コトンコトンコトン)
店には誰もいない

はじめから分かっているわ
隠れなくたって
あなたのいる場所くらい

わたしとあなたの間には
重力も関われない
遠い空の中に
落ちる、落ちる

時を刻む、針の音 (チクタクチクタク)
あなたまた埋もれてる
いつものこと

電話の、ベルが鳴る (リリンリリンリリン)
鳴らしているのは誰?

はじめから分かっていたわ
こうした形で
あなたと出会うことくらい

空を離れ、空気震わせ
ビルの壁を駆け下り
甘い恋の中に
落ちる、落ちる

怖いことなんてないわ
何度でもわたしが
起こしてあげるから

わたし、…そうよあなたが好き
ねえ、構わないでしょ?
年の差なんて千年経てば
気にならないわ

わたし、わたし諦めないわ
あなたが目覚めるまで
深い夢の中に
堕ちる、堕ちる

tokei ya no tobira wo tataku (toton toton toton)
akari wa tsuite inai
itsumo no koto

watashi no shinzou korogasu (koton koton koton)
mise ni wa daremo inai

hajime kara wakatte iru wa
kakure nakutatte
anata no iru basho kurai

watashi to anata no aida ni wa
juuryoku mo kakawarenai
tooi sora no naka
ni ochiru, ochiru

toki wo kizamu, hari no oto (chikutaku chikutaku)
anata mata umore teru
itsumo no koto

denwa no, beru ga naru (ririn ririn ririn)
narashite iru no wa dare?

hajime kara wakatte ita wa
koushita katachi de
anata to deau koto kurai

sora wo hanare, kuuki furuwase
biru no kabe wo kakeori
amai koi no naka ni
ochiru, ochiru

kowai koto nante nai wa
nando demo watashi ga
okoshite ageru kara

watashi, ...sou yo anata ga suki
nee, kamawanai desho?
toshi no sa nante sennen tateba
ki ni naranai wa

watashi, watashi akiramenai wa
anata ga mezameru made
fukai yume no naka ni
ochiru, ochiru

Ad blocker interference detected!
Wikia is a free-to-use site that makes money from advertising. We have a modified experience for viewers using ad blockers

Wikia is not accessible if you've made further modifications. Remove the custom ad blocker rule(s) and the page will load as expected.