Song Title
Uburi no Toshokan
(ウブリの図書館)
Producer
Music/Vocal/Video by Hinata Haruhana
Character Involved
Masda
Song Link
(Nico Nico Douga / YouTube)
Background
Edit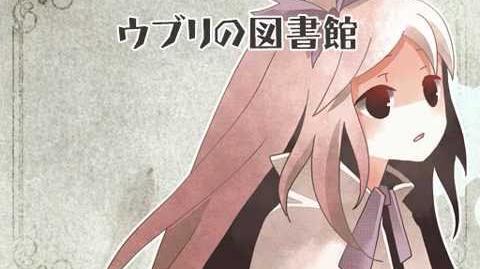 Crossfade of the album "Mado to Hekimen no Accord"
"Oubli no Toshokan" is a song composed and sung illustrated by Hinata Haruhana. Initially, the song was only available in the album "Mado to Hekimen no Accord" (it's featured in January 10th 2012 for the album, however it's still categorized under works in 2011) It is Hinata Haruhana's last work in 2011, the previous being Narisumashi Shoukougun.
Later on May 24th 2015, a DTM version of the song was uploaded featuring Masda in the video. In the crossfade for the album "Mado to Hekimen no Accord" however, it features Bernadette in the illustration.
どんな本でも揃っている
不可思議なゆめの図書館に
訪れる人もいないので
今は酷く寂れている

棚に並んだ主人公は
どれもきみの名前だけれど

それらは

黒く塗り潰されて
読み方はまるで 判らない

それは昨日の放課後に
約束忘れた友達を
待つ間だけの暇潰し
きみが捲った物語

でも、よく考えてごらんよ
時に追われる毎日より

遥かに

きみにふさわしい場所
物語が何処に在るかを

おいで
(無邪気なコトリが背中を押して)
部屋の窓際へ
("平気さ、勇気を出したら飛べる")

おいで
(その図書館に行くための道は)
ぼくの箱庭へ
(望めばいつでもきみの隣に)

...おいで
(きみのお気に入りの服 身に着け)
ビルの屋上へ
(磨いた靴の先並べたあと)

おいで
(真白な霧が右手を引いてく)
駅のホームまで
(見知らぬ誰かに見つかる前に)

おいで
(ゆめと現の狭間のゆりかご)
この図書館まで
(世界に挑んだぼくの住処へ)

...きみの書き記す手紙を渡しに
donna hon demo sorotte iru
fukashigina yume no toshokan ni
otozureru hito mo inai no de
ima wa hidoku sabirete iru

tana ni naranda shujinkou wa
dore mo kimi no namae da keredo

sorera wa

kuroku nuritsubusa rete
yomikata wa marude wakaranai

sore wa kinou no houkago ni
yakusoku wasureta tomodachi wo
matsu ai dake no himatsubushi
kimi ga mekutta monogatari

demo, yoku kangaete goran yo
toki ni owa reru mainichi yori

haruka ni

kimi ni fusawashii basho
monogatari ga doko ni aru ka wo

oide
(mujakina kotori ga senaka wo oshite)
heya no madogiwa he
("heikisa, yuuki wo dashitara toberu")

oide
(sono toshokan ni yuku tame no michi wa)
boku no hakoniwa he
(nozomeba itsu demo kimi no tonari ni)

... oide
(kimi no okiniiri no fuku mi ni tsuke)
biru no okujou he
(migaita kutsu no saki narabeta ato)

oide
(masshirona kiri ga migite o hiite ku)
eki no HOOMU made
(mishiranu dareka ni mitsukaru mae ni)

oide
(yume to utsutsu no hazama no yuri kago)
kono toshokan made
(sekai ni idonda boku no sumika he)

... kimi no kakishirusu tegami wo watashi ni
Ad blocker interference detected!
Wikia is a free-to-use site that makes money from advertising. We have a modified experience for viewers using ad blockers

Wikia is not accessible if you've made further modifications. Remove the custom ad blocker rule(s) and the page will load as expected.