Other versions
Edit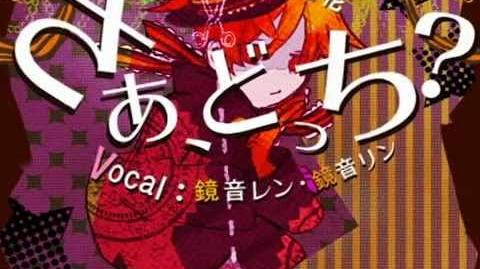 The original vocaloid version, illustrated by 7:24
The append version sung by Kagamine Rin (warm) and Len (cold).
Background
Edit
"Saa, Docchi" is a song composed, sung, and illustrated by Hinata Haruhana. The song was first published on October 17th 2010, with a Vocaloid version illustrated by 7:24 uploaded on the same day. Later, a Vocaloid Append version (previously featured in the album Kikai Shikake no Nazotoki) was uploaded on November 16th 2012. It is Hinata Haruhana's eleventh work in 2010, the previous being Daikirai. A Halloween song which asks you to make a decision; to pick trick, or treat?
The song is also featured in the game Project Diva Arcade, and the game Miku Flick 02 as one of the DLC packs in the game; Dark_Pack 01. On October 2014, "Saa, Docchi candy" was available in a Family Mart campaign; with the packaging illustrated by 7:24. In another collaboration "Trick or Miku" Saa, Docchi? is one of the badges available in the campaign.
ぼくは断然trickにそそられる
でも9番目の犯人を
当てることにも飽きてしまった

きみぐらいはぼくを楽しませてよ
誰にも見せたことのないtrickを
早くぼくに仕掛けてごらんよ

どの角度から見ても
きみの推理はバラバラ
まるでパズルみたい
おいで、ぼくが遊んであげる

蝶の標本、ハチミツ漬け
切り裂きジャックとJack-o'-Lantern
さあ、きみはどちらを選ぶの?
お好きなほうをどうぞ

わたしは断然treatにときめくの
でもみっつめのチョコレートの
香りにもすっかり飽きてしまった

わたしの期待を裏切らないで
誰も感じたことのないtreatを
早くこの口に入れてみせてよ

どの角度から見ても
あなたの身体はコナゴナ
まるでクッキーみたい
いいわ、残さず食べてあげる

フランボワーズ、嵐の孤島
スティックキャンディ、秘密の暗号
さあ、あなたはどちらを選ぶの?
お好きなほうをどうぞ

...手に染み付いた甘い匂いが
いくら洗っても落ちないの...

毒入りワイン、ケーキナイフ
鳴らないピアノとスノウマフィン
さあ、きみはどちらを選ぶの?
お好きなほうをどうぞ
boku wa danzen trick ni sosorareru
demo kyubanme no hannin wo
aterukoto ni mo akiteshimatta

kimi gurai wa boku o tanoshi masete yo
dare ni mo miseta koto no nai TRICK wo
hayaku boku ni shikakete goran yo

dono kakudo kara mite mo
kimi no suiri wa BARABARA
marude PUZZLE mitai
oide, boku ga asonde ageru

chou no hyouhon, HACHIMITSUzuke
kirisaki Jack to Jack-o'-Lantern
saa, kimi wa dochira wo erabu no?
osukina hou wo douzo

watashi ha danzen TREAT ni tokimeku no
demo mittsume no CHOCOLATE no
kaori ni mo sukkari akiteshimatta
watashi no kitai wo uragiranaide
daremo kanjita koto no nai treat wo
hayaku kono kuchi ni iretemisete yo

dono kakudo kara mite mo
anata no karada wa KONAGONA
marude COOKIE mitai
iiwa, nokosazu tabete ageru
FRAMBOISE, arashi no kotou
STICK CANDY, himitsu no angou
saa, anata wa dochira wo erabu no?
osuki na hou wo douzo

...te ni shimitsuita amai nioi ga
ikura aratte mo ochinai no...
dokuiri WINE, CAKE KNIFE
naranai PIANO to SNOW MUFFIN
saa, anata wa dochira wo erabu no?
osuki na hou wo douzo
Ad blocker interference detected!
Wikia is a free-to-use site that makes money from advertising. We have a modified experience for viewers using ad blockers

Wikia is not accessible if you've made further modifications. Remove the custom ad blocker rule(s) and the page will load as expected.